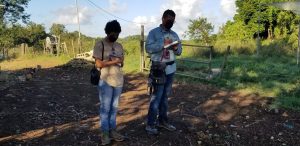 Protecting the forest is an ancient activity practiced by advanced cultures to their time. They recognized the value of Nature and its role as provider of water, food, shelter and medicine. From immemorial times, men and women learned that trees nourish the soil and they nourish themselves from it. This life process favors the well-being of our families.
Today after the lashes of Hurricanes María and Irma, the call to sustain the life of the forest and the heritage of our land is accentuated as part of the lesson learned from generation to generation.
We invite you to become part of the new generation of forest and farm custodians through a first step: the development of a management plan from the Forest Stewardship Program of the United States Forest Service.
Do you have a farm or land that contains forest areas or bodies of water? Would you like to learn what natural capital your farm has – identify flora, fauna, endangered species, soil types? Do you want to have GIS maps of your farm? Do you aspire to add value to the landscape of your farm?
A team of professionals in agronomy, horticulture, economic development, conservation, GIS (digital cartography) and biology, can help you make the Forest Stewardship Management Plan free of cost.
Based on the goals of the custodians and farmers, the objectives of the Program contribute to:
Protect water quality
Improve soil productivity and reduce erosion
Improve habitat for wildlife
Keep forests healthy
Enhance natural beauty
Support recreational, agricultural and sustainable economic development activities